Auto Service Tips to Beat the Heat This Summer
The heat of an Albuquerque summer is enough to put any machine under extreme pressure. Your vehicle is no exception. Take these preventative maintenance steps now, before the temperatures really start to soar, so you can be sure you and your car will get safely and comfortably through the summer driving season.
Take Care of the Basics
Your car's fluids, belts, battery, and many other moving parts and systems can suffer from temperature extremes. Make sure they are in top condition by having an inspection and tune-up done if it is needed. These are the main areas of concern, and the important thing is to be sure all these parts and systems are in reliable working condition.
Fluids, starting with fresh engine oil and filter, coolant/antifreeze, power steering fluid, transmission and brake fluids, and windshield washer.
Battery and charging system, check for overcharging or undercharging as these conditions will shorten battery life, especially under extreme heat.
Cabin ventilation and air conditioning operation is essential for comfort and climate control of the interior of the vehicle.
Tires, including tread wear and pressure levels, check for uneven tread wear as a sign of poor wheel alignment.
Brake inspection to check for worn components, as extreme heat can negatively affect stopping power of brake systems already under stress.
Wipers and lighting systems are essential for visibility on the road, to see and be seen under all conditions replace burnt-out bulbs and worn wiper blades.
Roadside emergency and first aid kits, check that all components are in place and in working order, including correct spare tire pressure.
Take It to The Next Level
If the summer holiday plans for your family involve road trips with young children, pack a special kid-friendly emergency kit. Carry it in the car for those inevitable surprises that seem to pop up when summer fun and children come together.
This kit should include things like sunscreen, prescription meds, important contact numbers (in case of cell phone disaster or dead battery), insect repellent and sting cream, and adhesive bandages. You might even want to throw in a few kids' books, games, or comics in case of unexpected rain-outs during outdoor activities.
Sweat the Details to Keep Your Cool
Enjoy the sense of security and peace of mind that comes with knowing your vehicle is ready for the harsh extremes of a New Mexico summer. Whether traveling with friends and family, or heading out on a solo mission, you want to be sure that your car, truck, or SUV is ready to handle whatever the journey brings.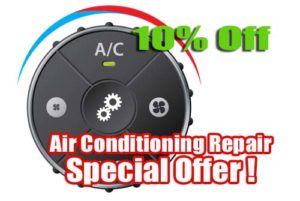 To ensure you and your passengers travel in comfort, make sure your air conditioning system is in good working order. McKinney Motor Company has expert air conditioning maintenance and repair technicians. If there's any sign of trouble, now is the time to get the repairs done and save 10% on the bill.
Call McKinney Motor Company now to book your summer tune-up and air conditioning inspection appointment at (505) 298-6734.