Pets are members of the family too, so it's only natural that they come along on road trips or to destinations around town. Whether it's a short drive to the dog park or a long-haul trip across the country, there are several ways that owners can protect their vehicles from the wear and tear that comes from owning an animal. Drivers can take the following preventative measures to keeping their car or truck looking its best, even when traveling with their furry friends:
• Stain guard fabrics – Owners can protect their vehicle's upholstery with a spray-on stain guard that will keep fabrics free from the stubborn stains that come along with traveling with a pet. Fabric car seats, carpeted cargo areas, and vehicle's floors will benefit from a coating of stain-resistant fabric protector. When there soiling from a pet, any stains will stay at the surface level of the fabric for easy cleaning, instead of becoming embedded deep into the fibers. Stain-guard sprays are inexpensive and can be purchased along with other household cleaners or vehicle maintenance supplies. Drivers should re-spray twice a year to keep their upholstery in good condition.
• Clean and condition leather seats – New vehicle's leather seats come pre-coated with an ultra-thin resin coating that keeps the surface protected against minor scratches, but pet owners should seriously consider adding additional protection to maintain their seat's condition. A dog's claws can easily create permanent scratches in a vehicle's leather seats. Owners can keep their car's leather upholstery looking like new by cleaning and conditioning it on a regular basis, using specially formulated products that are made just for cleaning a vehicle's leather, and by maintaining the finish on a regular basis.
• Use seat proctors – For those drivers who want to take additional steps to protecting their leather upholstery from pet-related scratches, the best option is a set of seat covers. High-quality seat protectors will keep the leather from free scratches, dents, hair, and stains that come with the territory of being a pet owner. There are many seat cover options available, including a selection for drivers who don't want to sacrifice the sleek look of their vehicle's leather interior. Non-slip surfaces keep seat covers securely in place and will maximize the lifespan of leather seats.
• Install rubber floor mats – For drivers with pets, heavy-duty rubber floor mats are an essential item for their vehicle. These type of mats are easy to remove, wash, and air dry so that a car stays clean when traveling with pets. Fabric surfaces are not recommended for pet owners because they stain and discolor quickly and are harder to keep clean and free from pet hair, dirt, and moisture.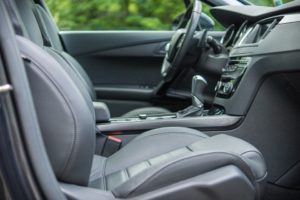 Allow the experts at McKinney Motor Auto Company to complete the care of your vehicle with our expert service and maintenance. Your car is guaranteed to look and perform its best, both inside and out when it's placed in our capable hands. Enjoy time with the whole family, including a beloved pet, and relax with the peace of mind in knowing that your vehicle will function at its peak after service from our professional team. Call us today at (505) 298-6734 to schedule regular maintenance or specific service to keep your vehicle running safely and smoothly.