Winter Driving Coming Soon to Albuquerque
The key to avoiding problems on the roads this winter is to be prepared. That includes preparing yourself for the different mindset you need as a winter driver, and preparing your car with the seasonal equipment and accessories you should be carrying.
The hazards of winter driving in Albuquerque, and in most of New Mexico, will soon be upon us. The ice and snow our northern neighbors have to put up with all winter long will definitely make an appearance or two in our area as well. Winter road trips also can take local drivers out of their element and into harm's way, especially in the northern part of the state.
Make the mental adjustments early
It's not uncommon even for experienced drivers to be taken by surprise when the first snows of the season arrive. Often, the first reminder of the danger is when the vehicle has already lost control. The single most important factor in safe winter driving is to reduce speeds and and maintain a greater stopping distance from the vehicle in front and from intersection traffic stops.
Also, make it a habit to check for road conditions between you and your destination before you head out. Allow extra travel time if necessary to avoid the need for speed, and if extreme weather is in the forecast consider alternative travel plans.
Keep a safety kit in the car
In addition to a sturdy ice scraper and snow brush under the seat, a well-equipped safety kit should be a seasonal fixture in your car. Get the following items together in your trunk and keep them there all winter, in case of emergency.
Extra winter coat with hood or winter hat, and blanket

Jumper cables, flashlight, and flares

First-aid kit and freeze-proof food (bring fresh water for each trip)

Bag of sand/gravel/cat litter and small shovel
Practice safe winter driving habits
Be extra vigilant about seat belt use for yourself and all passengers, as the chances of a collision are much higher in slippery conditions.

Avoid the use of cruise control. Snow and ice can cause the engine speed to fluctuate trying to maintain the set speed and cause tire spin and loss of traction.

Turn on the full vehicle lighting system in falling snow, and keep the headlights on low beam to avoid reflected glare from the snowfall.

Keep well back from snowplows to stay clear of thrown snow and de-icing sand, cinders, and salt. If it's safe to pass a snowplow, leave plenty of room in case it has to maneuver around objects on the shoulder of the road.
Consider installing winter tires
If you know you are going to be travelling regularly into areas where high snowfalls can be expected, winter tires are a good investment. They will make a big difference in providing extra traction for stopping, starting, and cornering. Your regular tires will last longer by saving all the winter mileage that goes onto your snow tires.
Putting winter tires on a set of separate rims makes changing them a quick and inexpensive job. It also gives your service technician a chance to inspect brakes and suspension components to spot any potential issues before they cause serious problems.
Get a seasonal service check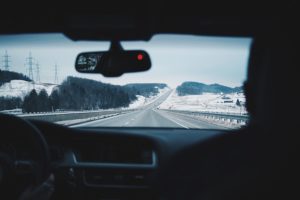 Check in to McKinney Motor Company before the first and the worst of the season puts you and your vehicle to the test. Call us today at (505) 298-6734 for winter tires and a free winter safety inspection. Our team of ASE-certified technicians always has your safety, comfort, and convenience as our top priority.